Keeping the face clean does not have to be a huge procedure as well as a need to Break the bank on skin care products. All you have to do is give your skin the right nourishing care. The primary cause of premature aging is exposure to the sun without adequate care and protection. Even small amounts of sun exposure can add up causing damage under the surface of the skin due to UV radiation.
Regrettably, people fail noticing it until it gets too severe creating dark spots, wrinkles, and even cancer of the skin. It is a familiar fact that contact to UV rays can cause sunburn, sun damage and augmentation increasing the risk of skin cancer. However, there is a solution for skin care and protection. Do yourself a favor purchase a good sunscreen and use it regularly. Also, wear sunglasses this will help protect the eyes as well as the delicate skin surrounding them. Take good caution in checking the product labels to ensure they provide sufficient UVA and UVB protection.


A

Good

to

know

:
Get adequate rest (Most of the body's repair and rejuvenation occurs while you sleep)

Skin has no Gender ( Men and Women can benefit from a facial scrub)

Moisturizing is very important for proper skin care

Drink plenty of water (keep hydrated)

Do not over wash your face (Washing strips oil and moisture)

Do not smoke (Smoking can cause the skin to age prematurely)

Exercise regularly (Increases circulation, which will give skin a natural, healthy glow)

Never sleep with makeup (it can cause a break out)
Most people know the importance of cleansing in skin care. The main idea behind using a cleanser is to clear up dirt and excess oils from the skin. The sad part is that there are some cleansers that can badly affect the skin. And there are people who get dry skin just due to their cleansers, and not because of any natural dryness. These individuals never realize they are using the wrong type of cleanser, which can actually hurt the skin. There are various cleansing alternatives that we all need to know.
First, bar soaps are the most simplest type of surface-active agent (surfactant) and works by making fat and oil water-soluble and can be easily removed by wiping or rinsing. However, bar soap may be great at reducing surface tension of your skin with anionic agents such as carboxylate, sulfonate, and sulfate ions which these ingredients can be irritating for people with sensitive skin.
The second, is liquid cleansers which are generally mild and less irritating. They may leave a fine moisturizing film on the skin but are effective in removing cosmetics. A key note to remember while having a pH similar to normal skin in order to decrease potential for skin reactions rinse of well.
Finally, a facial cleanser is the mildest type but they may not get rid of dirt and oil as well as the others. The bottom-line is that you need not aim for complete facial cleansing regime. Another option, would be to purchase a gentle cleanser that nevertheless will take away all the dirt.
What Products Should I Use?
Herbalife NouriFusion™ is ACE for your Face!
Simply combine Herbalife NouriFusion™ products into a personalized,
flexible regimen that's right for your skin type: Normal to Dry or Normal to Oily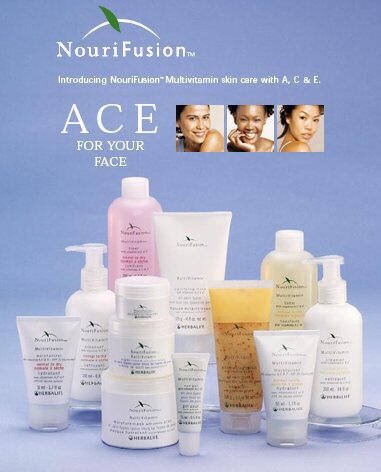 Refresh and Condition your skin:
Radiant C
Also, Skin Activator line for anti-aging:
We Thank you. Your friends at GFR.
Share your Thoughts and Ideas | with us.